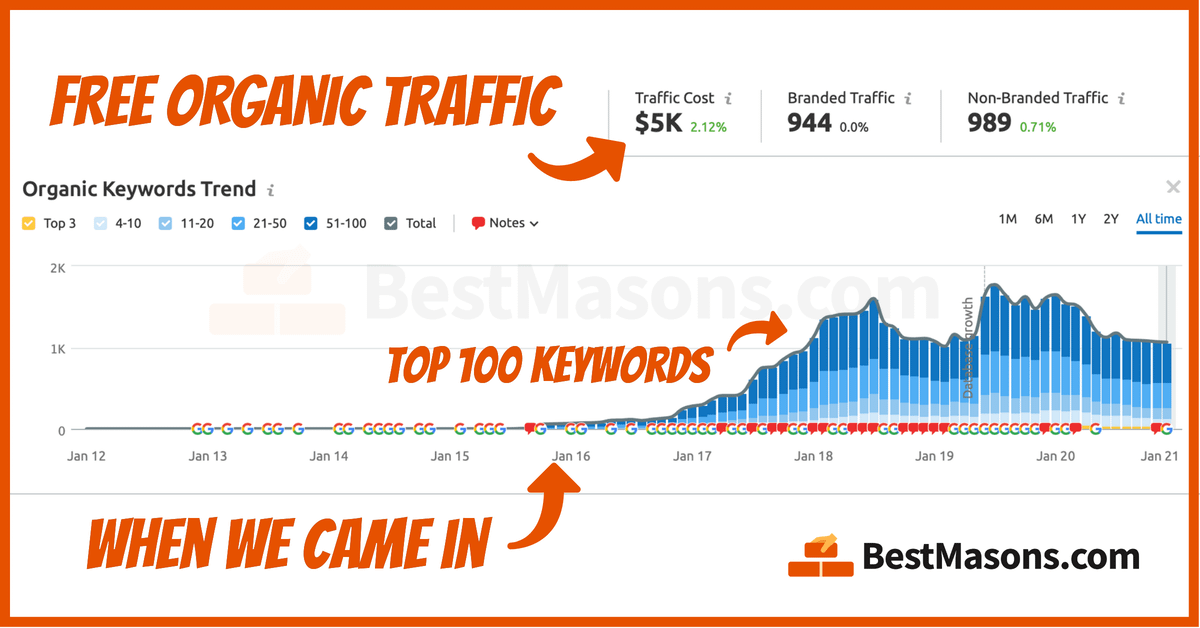 Over 1,100 top 100 keywords
The main image above is a screenshot showing the number of keywords in the top 100 search results of Google over the life of the domain. You can see that the domain wasn't even being indexed by Google until 2013, although the domain had been in use for a few years prior.
I built Brick Restoration's first 'new-site' in mid-2015 on the SquareSpace platform but quickly outgrew it's limitations. So I started building again and in early 2016, I launched their 2nd brand new website using the nearly-limitless WordPress platform.
Below is a picture of their original homepage that I got from Wayback Machine, just for reference. It was just a basic HTML website, which isn't bad… if it's 1999.
How people search for masonry services
It's important to note how much I learned from just the 6 months of analytics of what real people were searching for, what made them click, what kept them on the site and above all, what made them pull the trigger and convert into a legit, organic lead.
Using the analytics from the Squarespace days, and some marketing acumen from my years in real estate, I created 3 long-form blog posts that gave people exactly what they were looking for.
And I did it using every SEO best-practice in the book.
Custom infographics? Check. (I'm no designer, but Canva is free)
Over 1,000 words? Check. (Not a writer either)
Strategic header tags? Check. (Self-taught SEO)
Internal and 3rd party link-building?
Ok, yea you get the idea, I went all out. In this scenario in the masonry industry, I could not find one masonry contractor or company nationwide that was doing advanced content marketing.
Paid advertising vs blog posts
That's the beautiful part of this strategy. It's that 99% of people and business owners do not believe in this strategy and/or just don't get it. The reality is that most are just too busy and would much rather just cut a check every month for their leads through the use of paid advertising.
The problem with paid ads though is that once the budget hits, the ads turn off and you stop getting leads…
Wow, 25% of traffic from 2 posts?
In the screenshot below you can see that the top 2 of the top 5 organic referrers are blog posts that bring in a combined 24.93% of their monthly traffic. That's nearly a quarter of their entire monthly traffic from two blog posts that took a combined time of about 12 hours for both posts.
The next screenshot is of their advanced estimate form with conditional logic to increase conversions. This form boasts an astounding over a 20% lifetime conversion rate and a 24% rate for 2020, which equates to over 7,000 estimate requests since 2016.
Just this year in 2020 (it's December 5th at the time of this writing) , this form has taken over 2,100 estimate requests. That's a lot of leads….. especially when 25% of them are finding the website through organic content!
You can also see that this website was averaging over 50 estimate request per day with one day in July 2020 receiving 100 requests for an estimate.
How would 2,000 leads next year change your business?
Now check out this next screen shot of the most common answer when leads are asked "How they heard about us?" That really tall bar sticking out way above all of the other ones? That's the "Found on Google" option…
Are you a local masonry company?
If you're a masonry company or contractor and interested in growing your digital presence by doing what you do best, masonry, then we should talk. We only work with 1 local masonry company or contractor city or municipality, so reach out soon.